Posted by Troy Williams on April 25, 2017 at 6:55 PM
We have a little over a month left in the 85th Texas Legislature and are heading into the most hectic part of the session.  Follow me on Facebook and Twitter to get daily updates every step of the way as we approach the Legislature's end, or sine die. 
Here are some important updates from last week.
Layout of House Bill 3989
Last week, I laid out House Bill 3989, which would prohibit handguns at the State Fair of Texas.  State law currently prohibits handguns at amusement parks, and the State Fair is by all accounts an amusement park.  The law should treat like things alike, plain and simple.
Standing with the Gonzales Family 
Last Wednesday, the Texas House held a public committee hearing on House Bill 2899.  If passed, the bill would nullify local nondiscrimination ordinances and would ban local governments from passing additional protections in the future.  I had the opportunity to meet with my constituents, the Gonzales family, as they prepared to testify against this bill.  I'm proud to stand with the Gonzales family and the many others who oppose HB 2899.
Proposed Full-Day Pre-K Amendment
On Wednesday, the Texas House debated House Bill 21, a bill that would appropriate additional funds for Texas public schools.  I proposed an amendment to the bill that would have fully funded high quality, full-day pre-K.  Although the amendment failed on a party line vote, 86-50, I will not stop fighting for quality early childhood education.
New Redistricting Ruling
Last Thursday, a federal court ruled that Texas State House districts drawn by the Republican-led Texas Legislature in 2011 intentionally diluted the votes of minorities, violating the U.S. Constitution and the Voting Rights Act.  Once again, the Court has ruled in favor of democracy and fair elections by calling out the Texas Legislature's discriminatory actions.  Read more about the issue in this Dallas Morning News article.  Below is my statement in response to the ruling:


Reports of Voter Fraud in West Dallas
For the second time in less than a year, we have heard reports of irregularities with mail-in ballots in West Dallas.  In November, media reports indicated someone fraudulently applied for mail-in ballots for dozens of elderly or deceased voters.  Dallas Mayor Mike Rawlings and I sent a letter to Dallas County Elections Administrator Toni Pippins-Poole requesting that she take whatever steps necessary to restore voter confidence in our electoral system.  Here are a few reports detailing the situation in West Dallas: Dallas Morning News, Dallas Observer, WFAA Channel 8.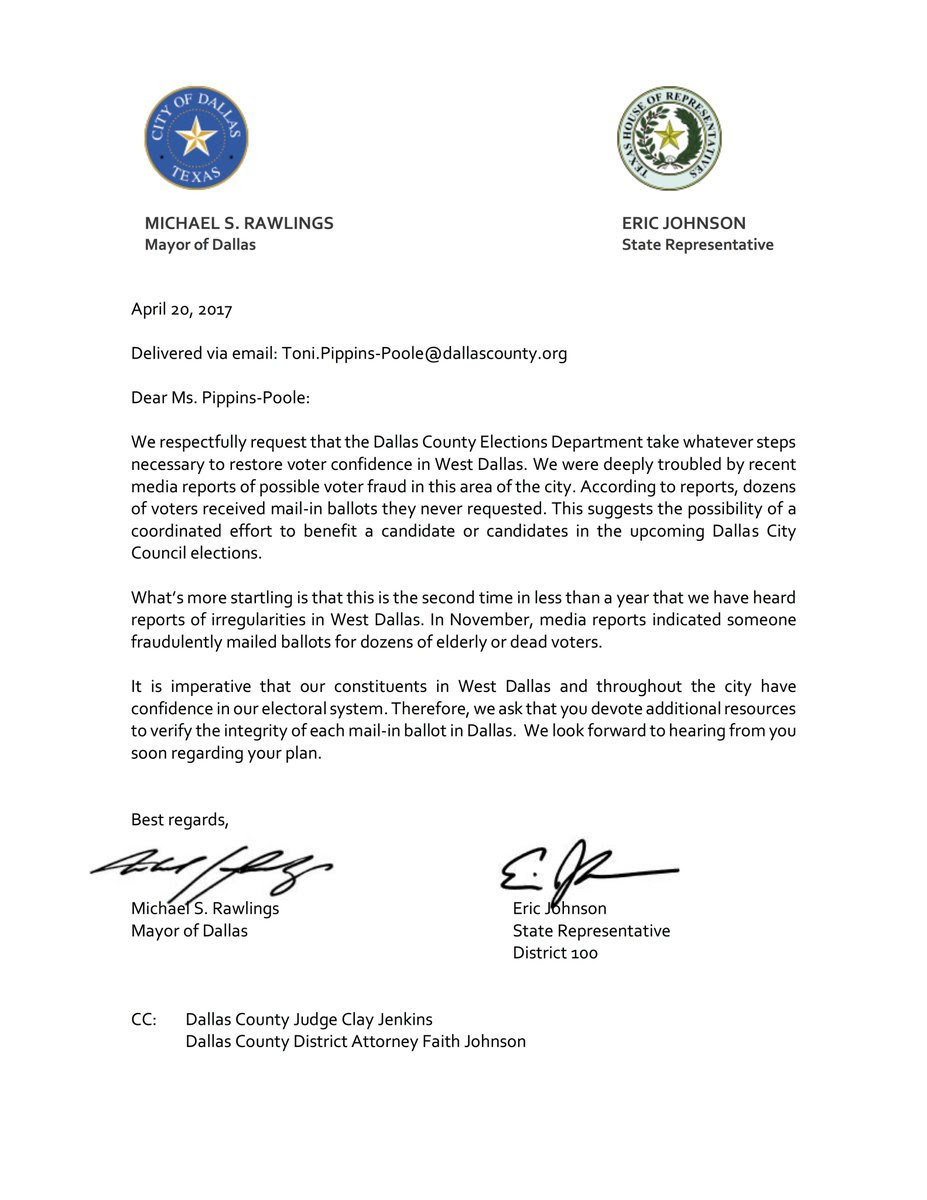 Yesterday, I had the opportunity to speak on The Texas Standard, a statewide radio show that airs on Texas' NPR affiliate stations, about the reports of voter fraud in West Dallas.  Listen to my interview
here
.
If you are concerned that you or someone you know may have been a victim of early vote by mail (EVBM) fraud, call my office at
214-565-5663
and we will put you in touch with the proper authorities to investigate your situation.
Stay tuned for more updates next week! 
Rep. Johnson posts frequent updates about his work to Facebook and Twitter.
Join him there: